The month of February was an eventful one. I represented KDE at four different foss events in India. Four events in four different cities in 4 different states :). First event one was Mukti '09 at National Institute of Technology, Durgapur. Second was Gnunify '09 at Symbiosis Institute of Computer Studies and Research. Pune. Third event was at Magnum Opus, Banaras Hindu University Institute of Technology, Varansi. Finally, one of my yearly pilgrimages, FOSSMeet'09 at National Institute of Technology, Calicut.
I had an very interesting time at each of the event and each deserves a separate blog post. Made many new friends and many new contacts. I am still in touch with many of them and its really cool to see so many new faces getting into Qt/KDE contribution.
My favourite dude currently is Shantanu Jha. Met this dude at FOSS.IN/2008, one of my regular and yearly FOSS pilgrimages :). Yes, Atul, I know, I have to write that report :). Anyway, so this dude attended the KDE Project of the Day at FOSS.IN/2008 and all the KDE talks. Volunteered along with his college gang at the KDE booth and helped us a lot during those five days of FOSS.IN ( and before/after the event ). So he attended the talks, got interested, spoke to the speakers. Then went back home, started poking with the code, and asked questions on the lists when he had doubts and started fixing bugs and sending patches.
Some days back he wrote me an email telling me about what he has been upto since FOSS.IN/2008 and how excited he is that Aaron accepted his patches. So I told his mentor friends and BMS college seniors Madhusudhan, Santhosh and Krishna to bring him along to FOSSMeet, Calicut. I was going to do a Qt/KDE development workshop for beginners. Asked him to join me as "TA" :P. And boy! he did an awesome job. He took a very interesting session on RAD with Qt Designer. It was fun meeting the whole BMS college gang again.
Now all that is over. New things to look forward to.
For starters, I am sure most of us know that Akademy will be held at Gran Canaria this time as a part of larger event Gran Canaria Desktop Summit.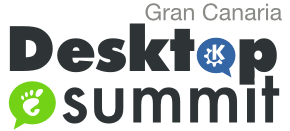 The Call for Papers went public couple of days back. Read
this
news on the dot. So what are you waiting for? Go submit your talk. You can even submit a technical paper if you wish to do so. :)